HOME
•
PAINTINGS
•
ABOUT
•
WORKSHOPS
•
NEWS
•
EXHIBITIONS
•
GALLERIES
•
---




"Rio Grand Morning with Pinons" won "People's Choice" award and "Best Use of Medium" in the Plein Air Painters of New Mexico annual juried exhibition at the Santa Fe Art Collectors' Gallery

November 2012

"Bravo California" interviews fine artist and painter, Kathleen Elsey
I was recently interviewed by Daniel Kepl of "Bravo California!" We had an informal and lively discussion about my path to painting, my painting process and the plein air paintings in the San Francisco solo exhibition. You can watch and learn about my painting process through a series of videos discussions.

Kathleen Elsey plein air painting of Stinson Beach in the town of Stinson, California. Click on the small image to left to see a three minute video discussion by Kathleen Elsey about the process of developing this fauve painting.
November 2 - December 31, 2012
Thos. Moser San Francisco, California
Over thirty Kathleen Elsey paintings are featured in this one-woman exhibition at Thos. Moser on Sacramento Street in San Francisco. She is known to us as in San Francisco as the"Brush with Life".
Kathleen Elsey, Santa Barbara artist, is well-known for her Fauvist/Expressionist paintings. Kathleen Elsey paintings are full of color and happiness executed with bold brushwork and passion. Many of her paintings in this exhibition were painted plein air right here in San Francisco's Laurel Heights and Presidio Heights. Examples of these paintings are "Steps of Telegraph Hill" and "The Lyon Street Steps."


"I also love to paint in the studio from still life or interior scenes. My painting, "Bouquet of Ranunculus"was begun during a Kathleen Elsey Painting Workshop in Santa Barbara, California. One of my Santa Barbara friends (a painter attending the workshop) brought in a huge rainbow bouquet of fresh cut ranunculus from her garden. The blue back drop is actually a linen dress of mine that was just the right color as a backdrop. It was the perfect cobalt blue that I wanted to paint. I will be exhibiting this painting for the first time in the San Francisco painting exhibition. Click on the image for a detailed description about this painting. More about Kathleen Elsey paintings and workshops on the workshop page.
My fauve painting palette is photographed with the paints named so that you can learn more about how I paint and mix my acrylic colors. I don't always use the same colors when I paint. In fact, for every painting I wait until I have studied the scene that I am about to paint, sketch it, and only then do I decide which colors to squeeze out of the tubes onto my palette. I do like to begin a new painting with fresh paint rather than using paint from the day before. That is because I like to paint thick and see the texture of the paint in my brushwork." Kathleen Elsey, Santa Barbara Artist
January 14, 2012


Kathleen Elsey painting workshop, "Above the Harbor" painted plein air during a Kathleen Elsey Painting Workshop from the vista point above the Santa Barbara Harbor Museum.
Kathleen's intent was to paint the harbor and village like it may have looked in the 1930's. The Kathleen Elsey Plein Air Painting Workshop students painted this same scene, four painters at a time with their easels up at the observation level.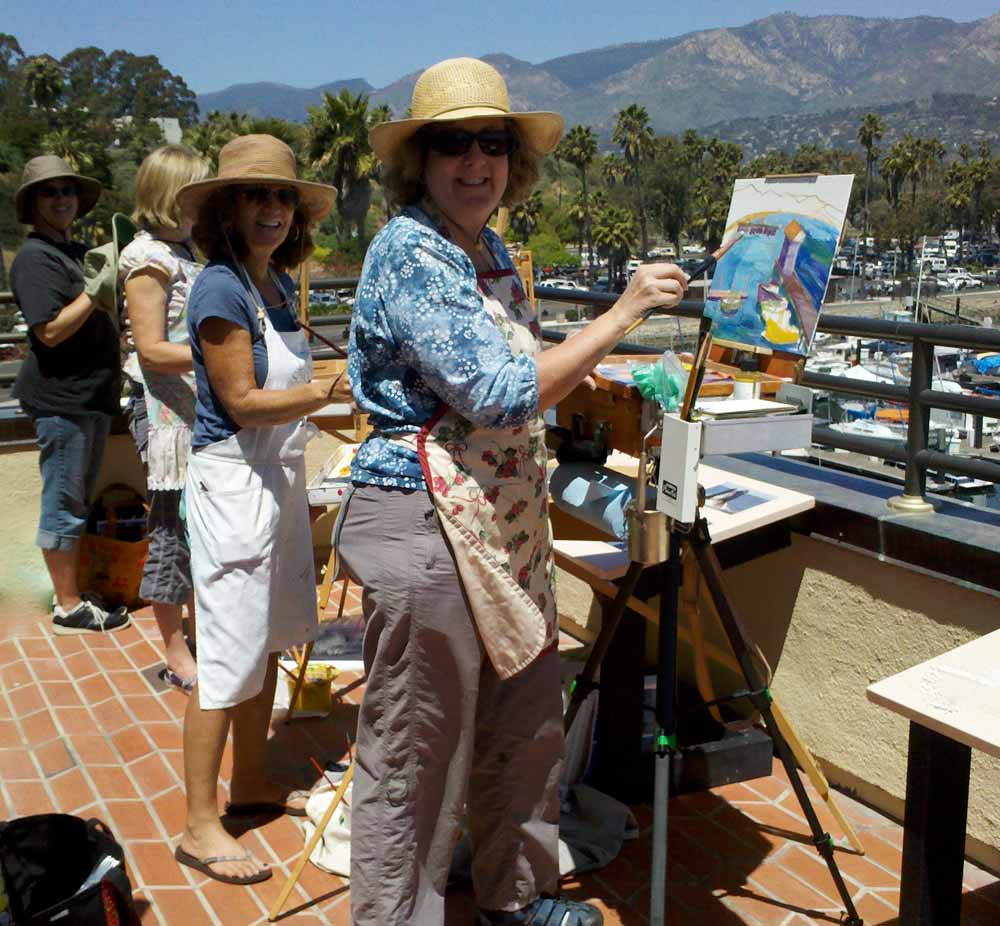 Kathleen Elsey painting workshops are available in New York, New Mexico and California. You can see more of Kathleen's Fauvist paintings at Kamp Gallery in Chicago and Kathryne Design and Gallery in Montecito, California.
The following are excerpts from Kathleen Elsey's guest lecture series discussion in the evening's conversation. Emily Falke, curator for the Maritime Museum, is the commentator.
Emily: "Kathleen, you have an extensive background in graphic design and marketing on the West Coast. What is it that led you away from that career to become a successful fine artist and painter and what was the transition like?"
Kathleen Elsey: "I worked for Hewlett-Packard (my name was Kathy Gard) for about ten years, and after a two-year sabbatical in Portugal, I returned to San Francisco in 1985 and started Kathleen Elsey Design, Inc.
It was a lot of fun being a successful small business owner and creative director in such a fabulous European-like town as San Francisco. I had a lot of technology clients, friends of mine from my Hewlett Packard days, who had also left HP and started up companies like Silicon Graphics and Tivo. Over the ten years of operating this design & marketing boutique, the deadlines became more critical and the creativity was becoming less important. Computers were taking over the design process."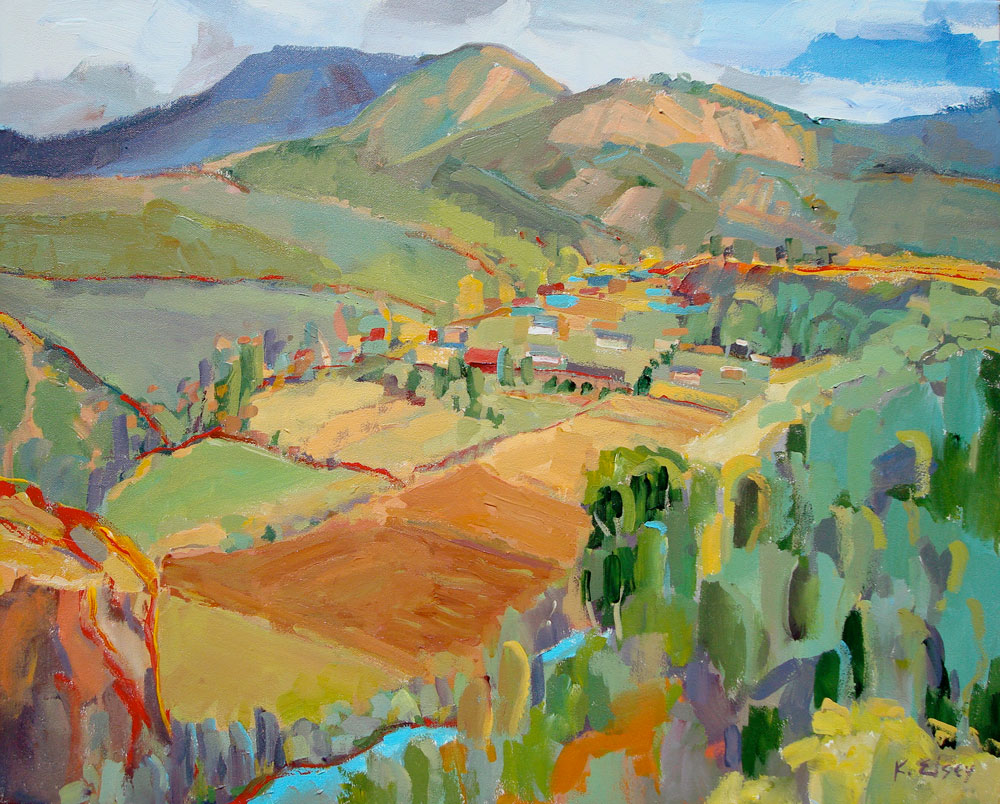 "At Kathleen Elsey Design we were creating websites, logos and branding fortune 500 companies. It was a successful and rewarding venture, but the stress level was off the charts. I found the work no longer creative so I immersed myself into the fine arts. I spent weekends, evenings– every spare minute painting."
"It was in 1998 that I closed Kathleen Elsey Design to follow my heart back to fine arts. Painting became my passion.
Within one year, I had my first open studio, then was juried into one of the most acclaimed art festivals in the country, the Sausalito Art Festival. I had an impressive fine art website, branching off from the Kathleen Elsey Design website.

I used each little success to build on the next success.
I had two jobs, one of marketing myself, the other being a fine artist/painter. Two years after leaving the design and marketing industry, I was in two galleries and had been juried into several festivals and exhibitions. Art appreciators that came to my exhibitions asked me if I would teach them to paint. So I began collecting names of students who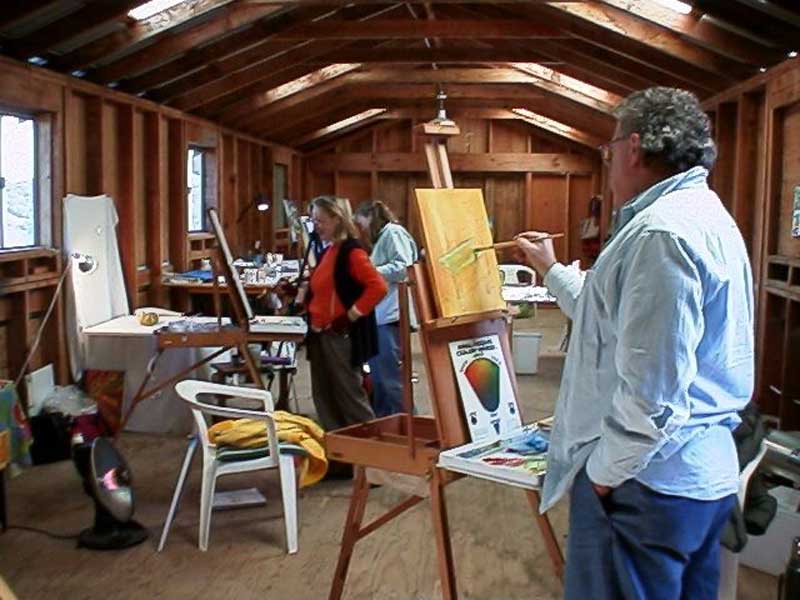 were interested in painting workshops for small groups and when I had eight names I sponsored my first "Kathleen Elsey Brush with Life" painting workshop in my barn in Sonoma. It was great fun and that first painting workshop led to several workshops every year in Sonoma. After that, I continued to paint and find new galleries and other venues to have painting workshops, exhibit my paintings and sell my work. So my transition was a process of using each success, no matter how trivial, to build onto the next success. Cross marketing helped also. I used each event to gather momentum for the next event.
Fourteen years later, and I am still loving painting, learning new things every day, exhibiting in galleries across the country and teaching Kathleen Elsey painting workshops for groups from California to New York."
Emily: "Tell us about your painting process."
Kathleen Elsey
"I try to NOT have a process. I try to NOT think too much when I paint. I try to NOT have rules when I paint. But I know I do think and have rules when I paint. I look back to fourteen years ago and wish I could paint with such abandon now."
"My 'non-process' you could call it, is have an idea, usually something I see, sketch it quickly and define why I want to paint it. What is the one thing I want to depict in this painting? That is my purpose or passion. Then I work fast. Cover the canvas with paint in the first half hour or hour. Stand back and check the composition, colors, value, shapes. It is easy to change it at this point if there is something that doesn't work for me. Then jump right back into it and keep the spontaneity going. Go with my intuition and paint without disturbances for a couple more hours. Paint with power, passion and economy."
Emily: "How would you describe your work today and how did you get to this point?"
Kathleen Elsey: "I don't like to put labels on painters, but I would say I am best described as a Fauve with Expressionist tendencies. I am definitely a colorist. I have always had a propensity for bright clear happy colors bouncing off the canvas. I greatly admire Vincent Van Gogh, Maurice Vlaminck, Andre Derain, Pierre Bonnard and other Fauves and French Impressionists."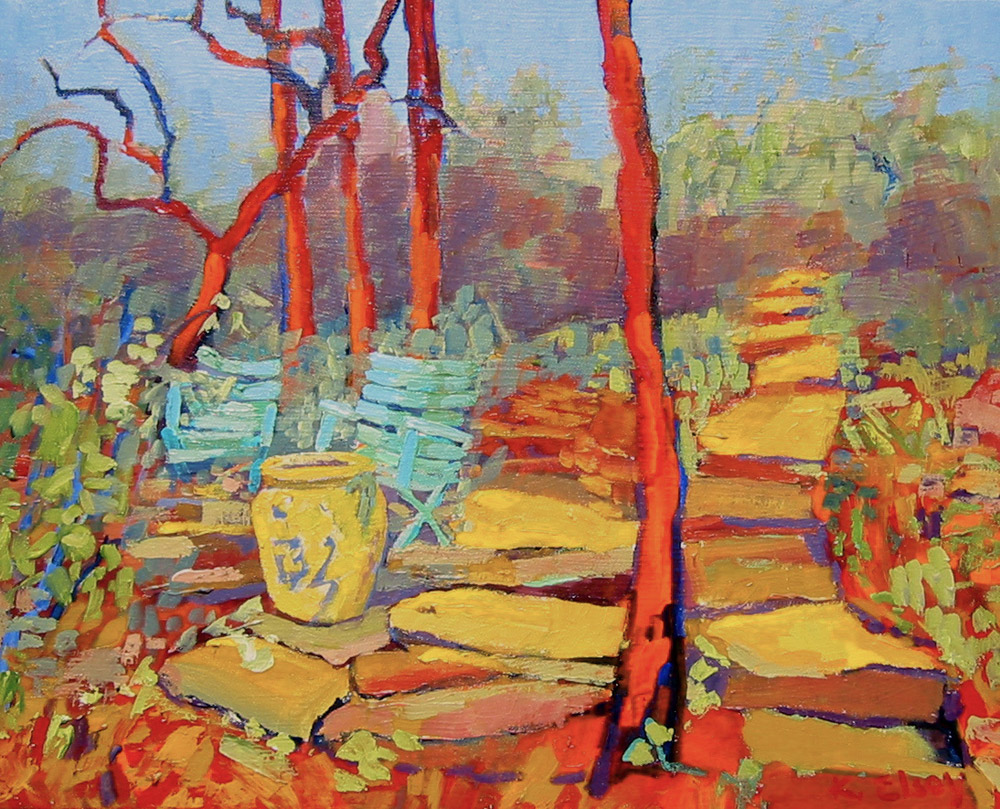 "I also have been influenced by California's Society of Six. Clearly my work has changed over the years which was not an intention. My life has changed, my environment has changed, my interests have changed. So naturally my painting changes with my life and exposure. I believe in having a purpose in life. When that purpose is filled with passion it transposes into paint on canvas. My best paintings are the ones that I am painting from my heart for only me, with a "who-cares-what-this-looks-like" attitude like my series of self portraits after three knee surgeries. It takes a lot of focus, passion and inspiration to keep going sometimes." So when I get stuck, I try different ideas, but if all fails, time always heals it.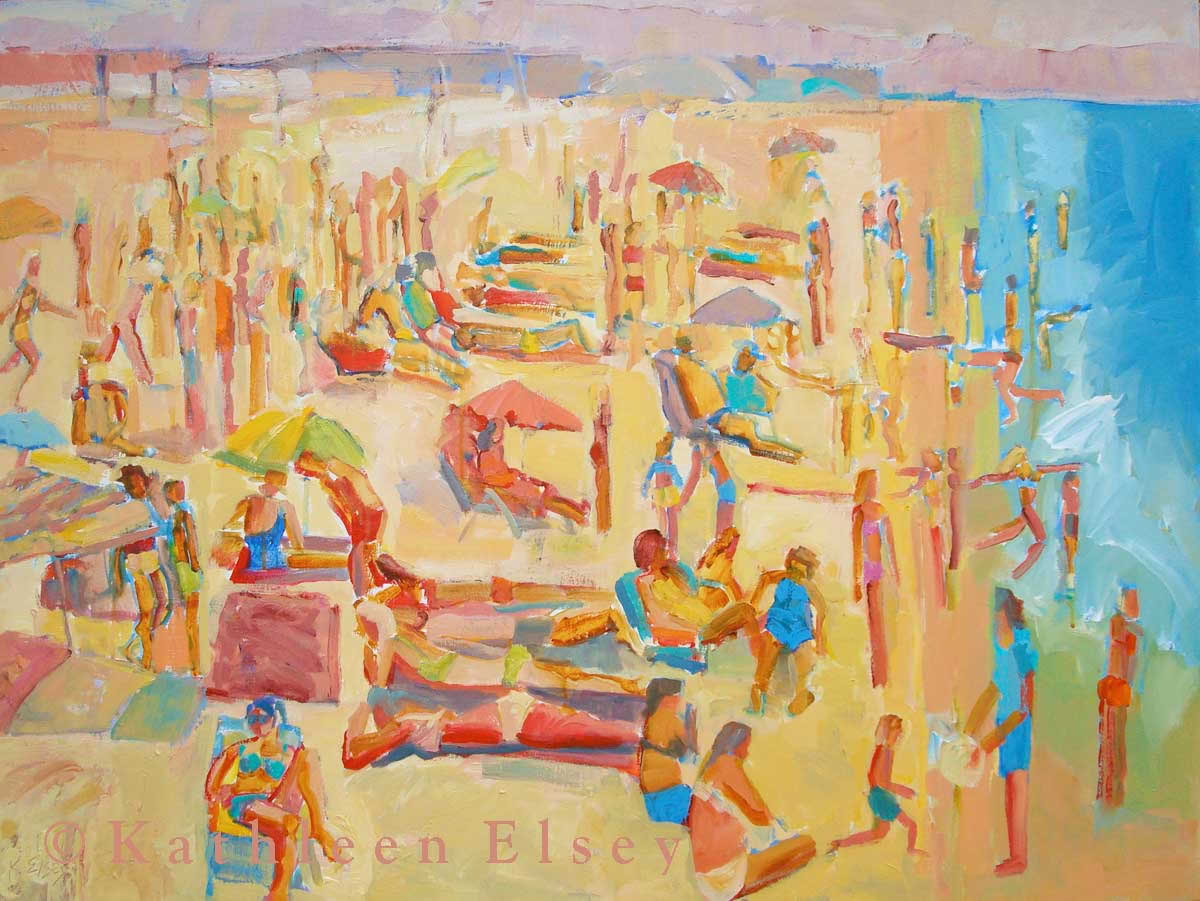 Emily:
"Kathleen, HOW DO YOU GET UNSTUCK?"
Kathleen Elsey: "Being lost is part of being an artist. It seems like I am always searching for something before I begin a painting, while I am painting, when I am finishing a painting. I don't always know what I am searching for, but I do know when I have found it. It is this searching that makes a painting your own. Yes, I literally have a box of tricks I try when I am really stuck."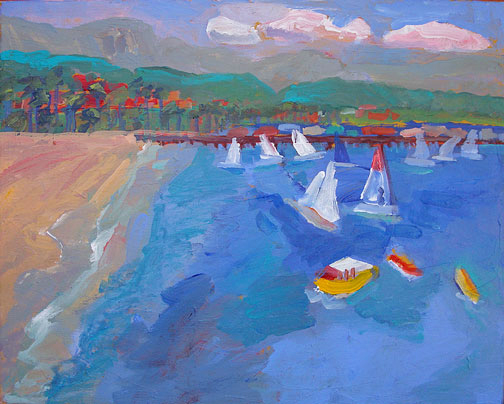 "I have an old carved wooden box that my grandmother gave me when I was six years old. Whenever I have an idea, I write it on a scrap of paper and put it in the box. I also have cut outs from quotations, poems, magazines and newspapers which are beginnings of ideas that I don't know how to develop. I have an old spool of thread in there, a piece of ribbon, a photograph of a picnic...all things that I think are a germ of an idea for a painting. I like to get all of them out, touch them, sort them, spread them over the table, mix them up, pull the best four out and think more. It becomes a physical process of sorting through my thoughts which doesn't seem as confusing as just thinking or making a list.
Another important way for me to get "unstuck" is to eliminate as many distractions as I can. Turn off the phone, computer, clear the desk, clear my mind, pay the bills. And get a peaceful feeling. I do my best painting alone. I have to really concentrate when I paint. Not that I think that much when I paint. Painting for me is intuitive and I can't have any interruptions or distractions when I paint. To have a three-hour period of painting with no distractions is glorious.
Then there are a lot of simpler things I do to get out of this stuck thing. I make a goal to make a painting in two hours as an exercise. No rules. Just paint. Who cares what it looks like?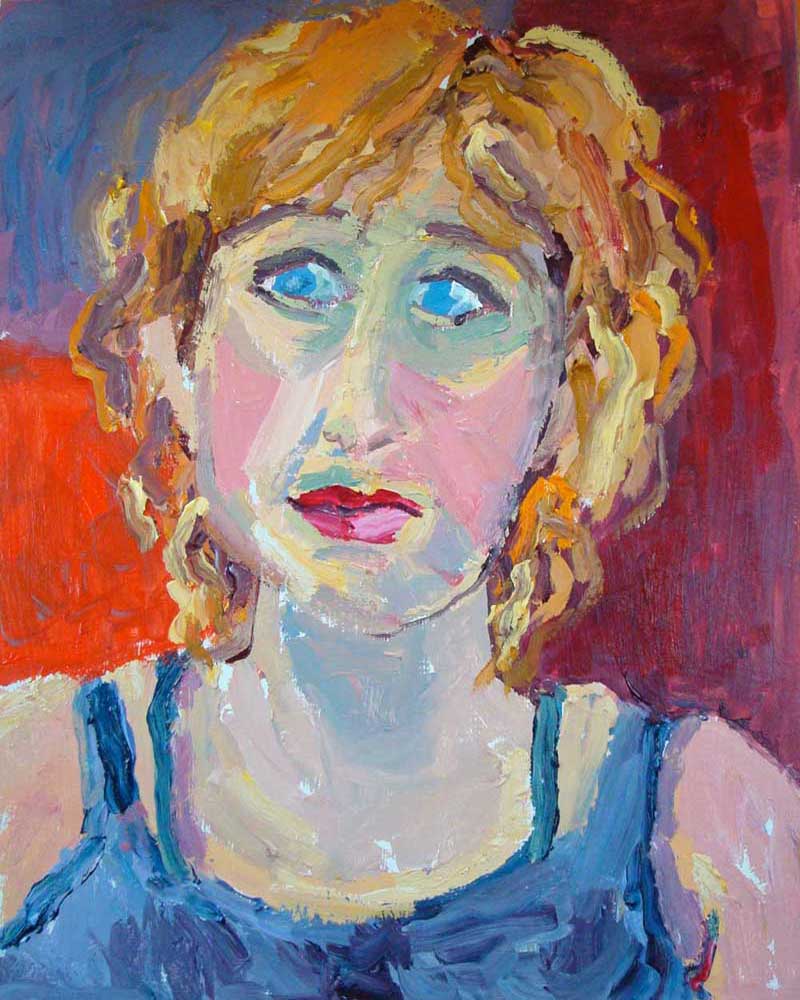 I study the masters, get out a book of a favorite painter and paint like they would paint. Or I study my own work. I look at my best painting for each of the past fourteen years.
It helps to grab my sketchbook or journal and head to my favorite coffee shop. Sit outside and start sketching whatever I see. My coffee cup or if I have a view, I sketch the buildings, the mountains, the people across the street. Make notes, maybe add a bit of color to the sketch. One of my favorite ways to get over a creative block is to paint my feelings. My self portrait is always fun to apply this feeling to. Sometimes it is months later when I look back at the exercise I did to get over my creative block and realize what I was feeling at that time.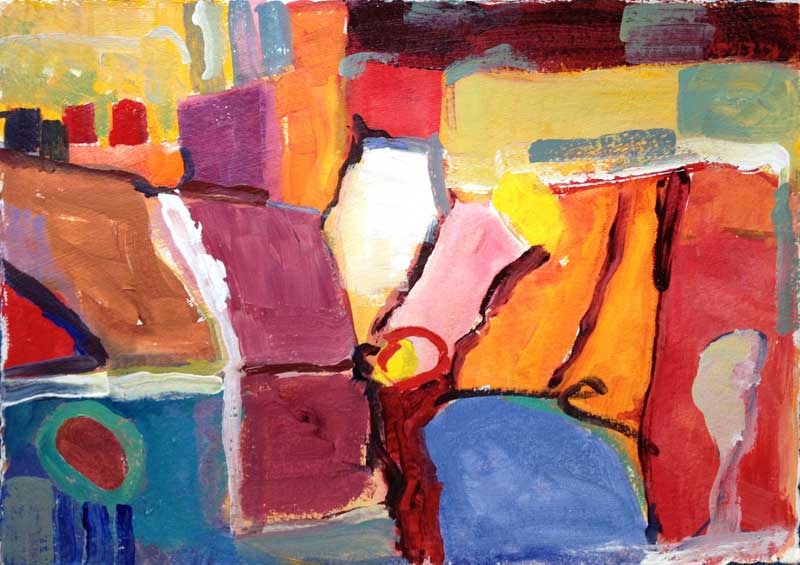 A creative block is a great time to experiment with some new materials. Try some new paint, a new color or a new medium for some added texture on those new canvases. One of my favorite getting unstuck exercises is to see how many greens I can make out of my favorite minimal palette. Use four colors and make a color chart for later reference. I can really get off on this exercise and do it for days. I think it is the mathematician coming out. I was a math major the first year of college! If I am feeling even too stuck to do that I do something even more tedious, like gesso and sand all the canvases in the studio and garage.
Playing around with a canvas and making an abstract painting with different mediums and paint always gets my mind going and gets my hands and brushes going, too. Some of my favorite paintings have come about this way. A blank canvas or paper, a little paint, a stroke somewhere leads to another. When I didn't care what the outcome was I was so pleased with the results. I try not to fight this dry period. I hike, wander in the woods or on the beach, listen to music lyrics, paint to music. The best ideas come when I am not looking for them.
If none of these ideas work, there is always the very very last resort which I avoid--clean the studio. I hope you are never so stuck that you end up cleaning your studio instead of painting!"
Emily: "Kathleen, how do you know when you are done with a painting? Do you have standards to fulfill or instincts that say you are done?"
Kathleen Elsey: "I don't usually know when I am done." If I reach a point that could be done and don't know what to do next, I put the painting away for a while. Get it out a week later. Then I am like a stranger and can look at the painting with objectivity. Just putting it out of sight for a while (before overworking it) turns it into a winner when I see it again."
Emily: "What do you hope the viewer will see in your work?"
Kathleen Elsey: "I don't care if they see anything. Art is personal and spiritual. If my painting stimulates any sort of thought from the viewer I suppose I have spoken to them. Or maybe I have spoken to their soul. Yes, that would be nice."
---
November 15th, 2011, The Happiness of Fish
Fauvist Artist Kathleen Elsey at The Salty Edge Santa Barbara Maritime Museum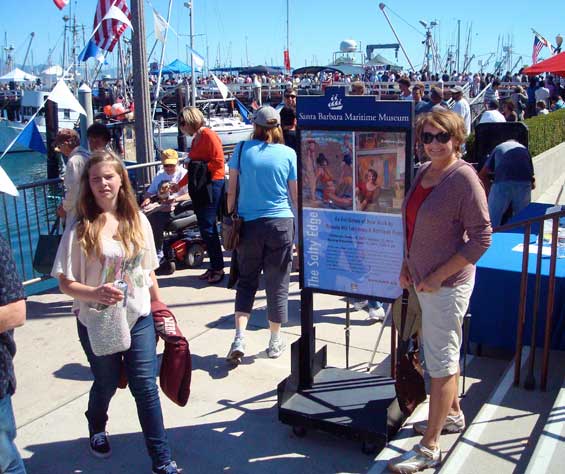 "The Salty Edge" two-woman exhibition features new work by Kathleen Elsey and Pam Enticknap. They depict beach life in Santa Barbara. Viewing Elsey's paintings is a treat for her use of bright, light-hearted color. She is a founding member of the New Fauves and "best oil or acrylic painting" award winner at the Carmel Plein Air Festival. Read the complete news article at The Happiness of Fish website.
---
December 6, 2011 Ed Hat Santa Barbara
Elsey discusses her paintings and sketches in the two-woman Salty Edge Exhibition at the Santa Barbara Maritime Museum. Where does inspiration come from? What is an artist's process? These questions and more will be part of the lively conversation moderated by SBMM curator, Emily Falke. The starting point for the talk will be the two-woman exhibition "The Salty Edge" depicting images of people and scenes on the seashore currently on display at the Santa Barbara Maritime Museum.

Read the complete article about this Kathleen Elsey paintings exhibition at Ed Hat Santa Barbara.
---
October 4, 2010
Kathleen Elsey Painting
"The Spirit of Place"
at Taos' Millicent Rodgers Museum
Every year, Kathleen Elsey spends part of September in Taos, New Mexico, teaching, painting and visiting peaceful places. Two of those peaceful paintings, "Taos Mountain Morning" and "Pilar ", are now on their way back to the historical and picturesque town of Taos. The New Mexico Plein Air Painters' Exhibition at Millicent Rogers Museum opens with a reception on October 9th from 5:00 p.m. to 7:00 p.m. and runs through November 14, 2010.
"I had been in Taos painting for a week of hot and dry weather. The day I painted Pilar, the sky was different, hazy. I could smell rain on the way. I perched my easel on the same hill in the same place I always stand above Pilar painting the quiet village before the skies opened. 'Morada with Taos Mountain' was painted on my last morning in Taos. The sunrise as it illuminated the mountain was magical. It was a nice way to say good bye until next year." Kathleen Elsey, Santa Barbara Artist
After over twenty years in the San Francisco area, Kathleen moved to Santa Barbara, California. She is represented by Kamp Gallery in Chicago, Chalk Hill Winery & Estate in Healdsburg, California and Kathryne's Design and Showroom in Santa Barbara, California.
---
July 27, 2010 Santa Barbara Independent
By Elizabeth Schwyzer
Santa Barbara Independent

A SUMMER'S DOZEN: It's been 12 years since Kathleen Elsey left her job as a designer in San Francisco and set out to fine art and paint full time. She hasn't looked back—until now. This coming weekend, she'll be opening her studio for a tour that features one painting for every year she's been at it. Arranged chronologically, these works chart Elsey's development from acrylic on paper through her transition to canvas and linen, a brief stint with oils, and a return to acrylic. There's a good balance between figurative works and landscapes, and while these works show her artistic range, there are themes that run throughout: bright color, bold brushstrokes, and a whimsical approach to both medium and subject. At the same time, Elsey's an accomplished technician. Take for example "Rio Lindo," from 2000. During this period, the artist stuck strictly to plein air painting, often starting with a bright red under-painting before layering on the subtler tones of earth and sky. Veins of fiery red show through here, delineating the fields and dancing up the flanks of golden hills. Down by the river, diagonal brushstrokes give way to choppier, kinetic lines, as if the water invigorated the surrounding plant life.

"Pink Fog Morning," from the following year, post-dates the attacks of September 11 by three weeks and is by far the darkest work in this show. The artist, Kathleen Elsey, seems perched on a narrow deck above the ocean, a single railing separating her from the chaos of cliff, rock, and surf far below.

Elsey's most recent works tend toward complex figurative scenes, like "Parade" from 2008, which any Santa Barbara viewer will recognize as Summer Solstice in all its exuberant energy and splashy color. The Past Twelve Years will be on view 11 a.m. to 5 p.m. on Saturday, July 31, and Sunday, August 1.

---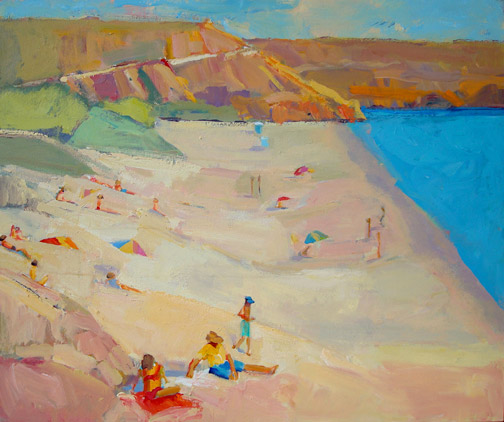 July 1, 2009


Infused with vibrant colors, the paintings of Santa Barbara Fauvist, Kathleen Elsey, explore interior spaces, figures, still life, beaches and landscapes. Working both plein air and in her studio, Kathleen Elsey paints with the vivified palette and brusque brushwork recalling both Fauvist and Impressionist traditions. Her solo exhibition at Divine Inspiration Gallery of Fine Art will feature over fifty of her oil and acrylic works on canvas including the premier exhibition of her figurative works. The exhibition opens on July 1 and runs through August 28 at Divine Inspiration Gallery of Fine Art in Santa Barbara, California.

Kathleen Elsey lived in San Francisco and Sonoma, California for over twenty years, as owner of Kathleen Elsey Design Studio Inc. Ten years ago, in 1999, Elsey closed the doors of her design studio in San Francisco to devote her energy to painting, traveling and teaching painting workshops. In 2003, she settled in Santa Barbara with her husband, Victor and her dog, Lulu.

In the past year, Elsey's paintings have been on exhibition at the Albuquerque Museum and the Bakersfield Museum as well as the Salmagundi Art Club in New York City. Her work is also represented by galleries in Carmel, California, Atlanta, Georgia and Hawi, Hawaii. She teaches "Brush with Life" painting workshops in Sonoma and Santa Barbara, California as well as Taos, New Mexico.

She is a member of the New Fauves, a group of nine painters from the US, Canada and France, committed to the aesthetics and approach of the famous French Fauve painters such as Matisse, Marquet, Manguin and Vlaminck. She is a signature member of both the National Association of Women Artists and the American Impressionist Society.


---
Kathleen Elsey painting, "Cowboy Room" (aka Aron's Room), one of 15 paintings featured in the solo exhibition, explores themes of inside outside and outside inside. Kathleen Elsey is a Santa Barbara artist painting plein air, studio painter and painting workshop instructor in Santa Barbara, Sonoma, California, New Mexico and New York.

March 6, 2009
Energetically Infused with Vibrant Hues...

By Erin J. Smith/CASA
SANTA BARBARA CASA MAGAZINE
INSIDE/OUTSIDE

Energetically infused with vibrant hues, the recent work of painter Kathleen Elsey explores themes of interior and exterior spaces.

"It's about moving the inside outside and the outside inside—that is what people do," said Elsey, whose solo show Inside Out is currently on display at the Architectural Foundation Gallery through April 10th. "When we go to the beach we bring pieces of our interior worlds outside, our beach blanket, our chairs, our books..."

Fourteen months ago Elsey conceptualized the show strictly as a series of interior spaces to compliment the Architectural Foundation's focus on design and built environments. But as she began working through the paintings, Elsey realized that it's not just about inside: "I also like to paint outside where people bring the inside out" Elsey's painting Table in the Oak Grove as an example, where tables and chairs have been set up outdoors almost like a room in a house. "But," said Elsey, "the trees around you become the walls."

The drive to create has been part of Elsey's life for as long as she can remember. "When I look I see shape and color, and I always see light. It's what makes me want to paint," said Elsey. "With color and light I could be excited to paint anything."

"I always wanted to be an artist, but there was no one to tell me how to make a living with art," she said. Graphic design seemed to fill the need for working with her hands, and Elsey enjoyed a successful career including owning Kathleen Elsey Design, Inc. marketing and design business in San Francisco for fourteen years. After retiring from graphic design, Elsey has been painting full-time ever since. She also teaches Kathleen Elsey Painting Workshops in Santa Barbara, Sonoma, and in Taos, New Mexico.

"Paintings are recordings of my life. They are my memories," she said. "If I see something that impresses me, I have to capture it in paint. I work fast to get the feeling down." Elsey told a story about a time she was outside painting with a friend where she found herself painting a light-infused scene despite the gloomy atmosphere outside. When her friend saw Elsey's painting, her friend said to her, "Kathleen, you see sunshine everywhere."

Join Elsey at an artist's reception on Friday, March 6th from 5-7pm at the Architectural Foundation Gallery. The Gallery is located at 229 E. Victoria Street at Garden Street.
May 18, 2005


Kathleen Elsey's painting wins "Best of Oil or Acrylic Painting" at Carmel's 2005 International Plein Air Painting Competition. Santa Barbara artist, Kathleen Elsey was one of 90 painters from the US and Canada juried in to the prestigious Carmel Plein Air Painting Festival from May 12 – 15. Her painting "The Nursery in the Valley" won a purple ribbon for "Best Oil or Acrylic" painting. The competition took place on May 12 and 13, in which artists were to make a plein air painting during each day, frame the painting and submit it to the jury before 8:00 pm.
Kathleen Elsey paints and teaches Kathleen Elsey Painting Workshops across the States. Elsey lives with her husband, Victor and her dog, Lulu in Santa Barbara, California. Elsey paintings are represented by Lagerquist Gallery in Atlanta, Georgia, Nancy Dodds Gallery in Carmel, Gallery Oscar Paintings in Ketchum, Idaho, and William Lester Gallery in Pte. Reyes Station, Ca. Elsey is a founding member of En Couleur, a group of seven colorists from California who paint as a group and exhibit their paintings together. She is also signature member of the painting group, the American Impressionist Society.

"I'm not into speed or quantity when it comes to painting" says Kathleen Elsey. "Usually a plein air competition allows several days to paint any number of scenes you chose. But with the Carmel Festival, it's all about your performance in two big days. I was fortunate that I had great painting day and found a bit of creative inspiration in this nursery while I was wandering the back roads of Carmel Valley. I love painting old sheds and confusing messed up scenes. This nursery touched my heart and that is what inspires me to paint. Last year I won an honorable mention award for my painting "Truck for Trade" so I was hoping to win another honorable award this year. To get the best of show was beyond my dreams." Kathleen Elsey


Kathleen paints the back roads of Marin County, Sonoma, Northern California and New Mexico. Kathleen Elsey painting workshops are offered in California and New Mexico. Her paintings are represented by galleries in California and Sun Valley, Idaho. September 2003
February 22, 2001
Kathleen Elsey, painting workshop instructor and California colorist, is a founding member of a new group of painters with their roots firmly grounded with the Impressionists, Fauves and the Society of Six. "En Couleur" translates to In Color. It expresses the strong focus on color of the painting group. The six painters, Kathleen Elsey, Robin Fahey Cameron, Lindy Duncan, Connie Kirk, Jeanette Le Grue and Camille Przewodek, are plein air painters who express their individual artistic visions with free brushwork, lush and often unexpected colors and with a strong focus of light in their landscapes and still life paintings. Individually each is a successful painter, with works in painting collections nationwide and abroad, yet feel that together they can share ideas and inspiration, promote their artistic vision and, like many others, raise funds for specific environmental causes.

"There is a special encouragement that artists can share with each other," says Cameron. "We each have our different styles, yet there is a connectedness to our work, this emphasis on color, and light's effects on it, that joins us visually. She adds, "each of us is committed to sharing our connectedness to the land and our hope that we can help preserve it. Every time someone looks at one of our paintings and feels appreciation for it, we are getting the message to them that not only the art, but the beauty of the natural world is important."

Kathleen Elsey is a signature member of the National Association of Women Artists and Women Artists of the West. Kathleen and Robin Fahey Cameron have degrees in Fine Art and pursued careers in design and advertising before resuming painting full time. Kathleen is now a successful full time artist and has created Kathleen Elsey Painting Workshops for small groups of painters and "Brush with Life" workshops and seminars. Jeanette Le Grue and Lindy Duncan are Juried Artist Members of the California Art Club and with Camille Przewodek are winners of numerous awards. Camille is a co-founder of the Pacific Academy of Fine Arts and a Signature Member of the Laguna Plein Air Painters Association. Robin, while pursuing her fine art career, is also owner/director of the William Lester Gallery in Point Reyes Station. Both are members of the American Impressionist Society as are other members of the group. Connie Kirk juggles her paintings with a thriving design business in San Anselmo. All of these women have exhibited widely and hope that now, together as En Couleur, they can make a stronger statement for their style of painting and their love of what they paint.

Their first scheduled painting exhibition as a group is at the William Lester Gallery, May 10 - June 18, 2001.
November 30, 2008

By Elizabeth Schwyzer, Independent Arts Editor

High on the wall of Fielding's formal boardroom hangs a small acrylic landscape painting of Sedona, Arizona. Outside the window, the South Coast fog is settling over the upper Eastside neighborhood and evening is closing in, but within the confines of the gilt frame, Kathleen Elsey's vision of the Southwest bursts with color and light. "Cathedral Morning" captures the heat of its subject in exuberant, flat planes of color: hard, red rock rising steeply from a stand of yellow-green trees. The outcropping cuts a sharp line against a cerulean sky, and a band of turquoise water threads between the tree trunks, leading the eye back and forth between sky and ground.

"I tend to exaggerate when I paint," admitted Elsey, who calls herself a fauvist. "I'm very into color." When Elsey learned that the curator of Fielding's art exhibits, was organizing a show around the concept "terra firma," she drew from her portfolio the "hot, dry, hard, brightly sunlit" landscapes, many of which were painted in Arizona and New Mexico. The largest of Elsey's paintings on display in this exhibit is "Rio 3," painted en plein air at the Rio Grande River near Taos, New Mexico. In Elsey's painting, a high horizon line allows the artist to devote the entire canvas to the rugged, vertiginous cliffs framing the river. This is her most abstract expressionist work in this show; slabs of peach, pink, and orange rush to meet a deep blue ribbon that cuts insistently through craggy rock.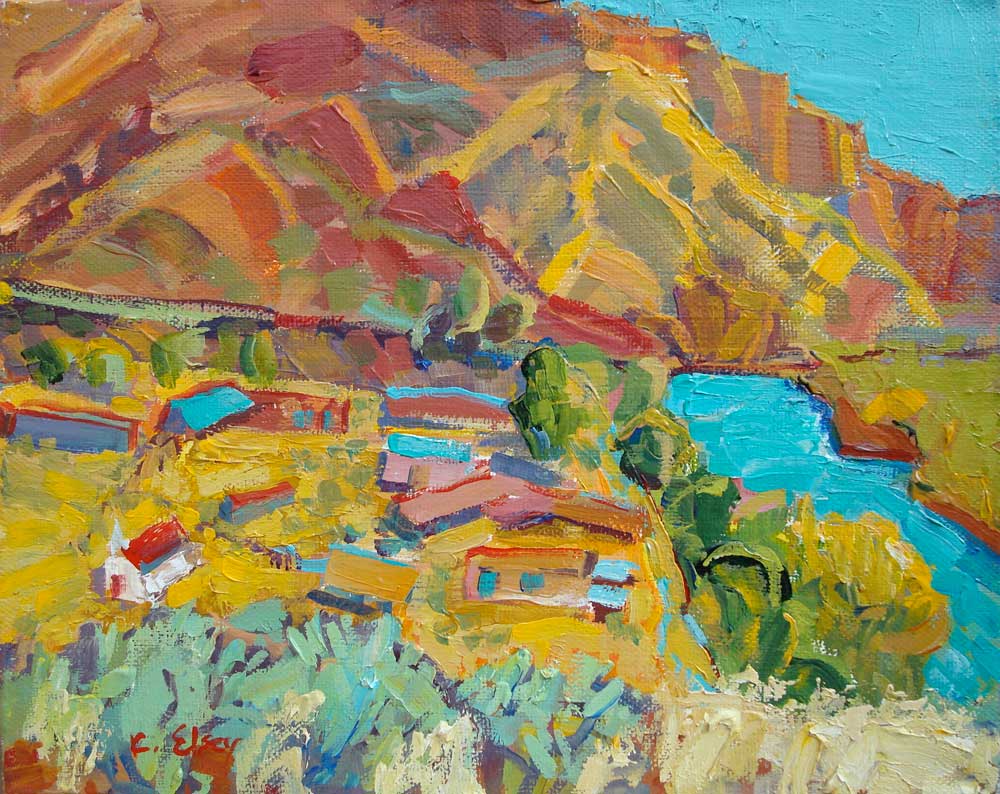 Downstairs, Elsey's paintings turn to more immediate surroundings—like a private, sun-drenched garden full of flower pots. But it's her visions of dry, scorched earth and rock that best capture the essence of their subjects, as in "Hacienda Martinez," where barren land slopes away from a stark adobe building, and a wooden ladder casts a sharp shadow against the baked earthen wall.

Elsey's works included in this show span the course of eight years, and it's interesting to chart the artist's progression from deeper colors and busier lines to a brighter palette and a preference for simpler, broader planes. In Elsey's painting,"Pilar, Autumn Afternoon," a few brushstrokes suffice to capture a cluster of white sagebrush growing on a hillside, brittle and parched by the sun.
---
August 22, 2008

By Ted Mills, Santa Barbara News Press
It was in these pages art critic Josef Woodard referred to artist Kathleen Elsey as a post-Fauvist. "I love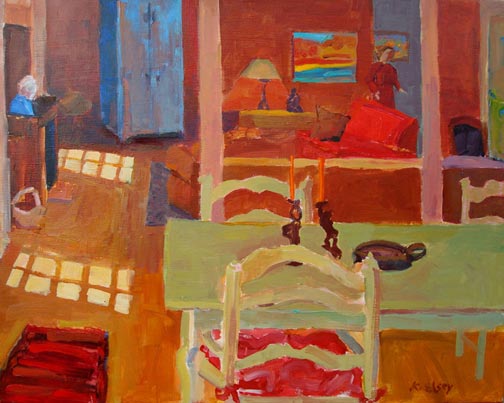 it when someone calls me that," she says. "That to me is the highest compliment. To be affiliated with the Fauves in any manner -- Van Gogh and Vlaminck … I look to them when I have problems with my paintings." In Elsey's acrylic canvases, color explodes in rich, broad strokes, whether in humble interiors, crowded beach scenes, or serene landscapes. The Santa Barbara Studio Artists Annual Studio Tour offers a chance to see all of Elsey's work and the place where she creates this coming Labor Day weekend.
Elsey came back to art 10 years ago after decades in the corporate world, a gig that she found hard to give up. "I got to a point where I had a staff of 20 designers and illustrators working for me and I realized my job was more management than creativity or art. I wanted to get my hands back in the creative." After leaving Hewlett Packard, Elsey formed her own design firm in San Francisco, but after 12 years that, too, lacked the creativity she needed. "It was an easy decision to make," she says about taking up painting full-time. "I was invited to join a gallery the first year … my only regret is that I spent too many years in the corporate world instead of recognizing earlier that it was OK to move on."
Moving back to painting, Elsey picked up where she left off, from her days as a fine art student at Bowling Green University in Ohio. She made her way into higher education not in search of art, but through a mathematics scholarship. "I told (the career counselor) what I thought I should do, and not what I wanted to do," she says. By the second year, she had switched majors. Like her jump out of the corporate world, it took Elsey time to decide what she really wanted.
But now her attitude is quite different and anything that even feels like a rule or stricture makes her nervous. She finds it hard to enjoy commissioned work, even when told just to do her thing. "I have to have some sense of excitement before I start working and that doesn't include someone telling me what to paint."
Fortunately, she has plenty of galleries and buyers who follow her work and wait for Elsey's next painting or burst of creativity. The first hours in the life of a painting are crucial -- these are the moments when Elsey secludes herself in the painting studio with no distractions. They are also, she says, the moments when the real emotion comes out into her work. She may then stop, hold off, abandon, or continue with the work at a later date. "I turn up the Schubert String Quartets and paint, and try not to think." Her previous painting studio was on 40 acres of land in Sonoma, where Elsey and her husband lived up until five years ago, when they moved to Santa Barbara. And for the fourth year in a row, Elsey opens her Santa Barbara painting studio to all Labor Day Weekend for the Santa Barbara Studio Artists Annual Tour.

August 10, 2007
(A portion of the article is below.)

A wind of self-fulfilling logic is blowing through the Harris and Fredda Meisel Gallery, and lining the walls of the Rehabilitation Institute. The core goal of the group show "Figuratively Speaking," after all, is to celebrate the human form. Ditto, the core goal of the Institute which deals directly with bodies-figures – and their capacity to adapt and be repaired.

In the case of the artists showing here – some familiar to the local art scene and some new to it – the genre of figurative art is anything but a fixed field of expression. Each artist finds a particular way of dealing with the figure, carving out a niche within the medium.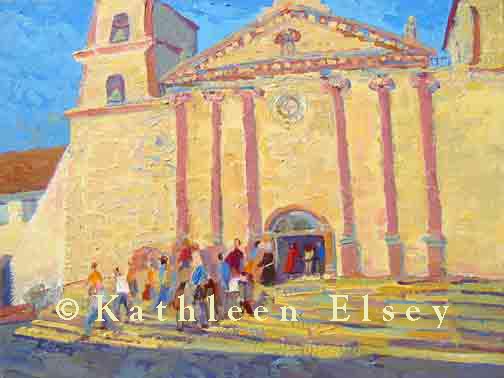 "Kathleen Elsey paints with a looser hand than the other artists, building compositions with dabs of paint and structures built from modules. Fauvist echoes sneak into her scene paintings, brightly hued but slightly tilted views, as in "Beach Day, Misty" and "Mission Morning Mass," a strange but interesting take on the oft-depicted Santa Barbara Mission.
"


Josef Woodard Santa Barbara News Press Correspondent
May 5, 2007

Santa Barbara, California – Kathleen Elsey's painting "Kathy's Garden," was accepted into the juried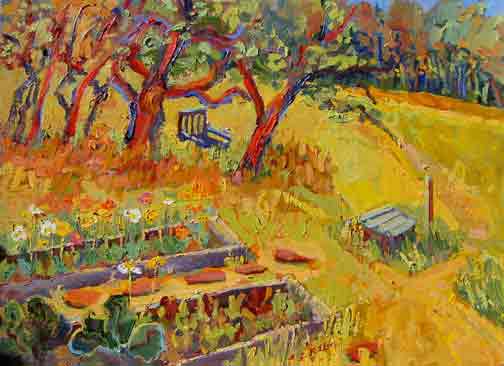 exhibition of the International Society of Acrylic Painters and won the Golden Paint Award. The painting exhibition is in San Luis Obispo, California May 5th through June 16. In addition, her painting, "The Nursery" (Best oil or acrylic winner at the Carmel Plein Air Festival) was selected for the American Impressionist Society's Exhibition May 3rd through May 25th at Hilligoss Gallery in Chicago. Ms. Elsey is a founding member of En Couleur, a group of seven California Colorists, and a signature member of the American Impressionist Society, the International Society of Acrylic Painters and the National Association of Women Artists. She is well known across the United States for her fauvist landscapes, interior scapes and still life works on canvas. She teaches Kathleen Elsey Painting Workshops in Taos, New Mexico, Sonoma and Santa Barbara, California.
© 2022 All photos and content of this website
are protected by U.S. & International copyright laws. They MAY NOT BE USED for reproduction in any manner without written authorization from Kathleen Elsey.