HOME • PAINTINGS FOR SALE • ABOUT • WORKSHOPS • NEWS • EXHIBITIONS • GALLERIES •

---
"We are pleased to be exhibiting Kathleen Elsey in our gallery and are dedicated to the Fauve movement. Kathleen Elsey's presence in the contemporary California art community is entering its fourth decade with vigor and creativity. Kathleen Elsey's paintings have been exhibited coast to coast, from San Francisco, the Albuquerque Museum to the Salmagundi Club and National Association of Women Artists' Gallery in New York City."
Barbara Vahlkamp, Kamp Galley
Kamp Gallery has an impressive collection of historical paintings and now an extensive collection of California Fauve paintings including Kathleen Elsey.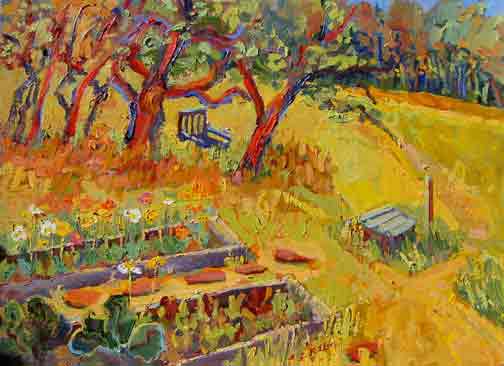 "Just as artistic tastes have changed, Kamp Gallery's offerings have also evolved. The painting gallery initially reflected Nicholas' affection for period pieces done before 1950, including those by secondary American and European painters of note. Thanks in major part to Barbara's work, and because younger clientele want edgier art, Kamp Gallery also shows modernists, contemporary painters, abstract expressionists and the work of movements like the New Fauves." Excerpt from "Eyes only for Art" by art critic Alan P. Henry
Kathleen Elsey, painting workshop instructor and California Fauve painter, in her Santa Barbara, California studio.
Kathleen Elsey Fine Art

Santa Barbara, California
805 452-7717
If you are looking for a Santa Barbara beach painting, or a California landscape painting, or a Fauve painting, and visiting Santa Barbara, call or in advance for an appointment to visit the Kathleen Elsey painting studio and see lots of fauve and expressionist paintings in the works. Kathleen Elsey has an open studio in the spring and autumn.

Kamp Gallery
996 Green Bay Road
Winnetka, Illinois
312-664-0090

Kathleen Elsey is represented by Kamp Gallery in Chicago. It is the gallery to visit if you like the New Fauves. The Gallery offers exceptional turn of the century oil paintings by historical American and European artists, as well as appraisal, financing, research and consultation services. "We specialize in American Impressionist, European, English paintings and restoration period framing. And, more recently, we have added Kathleen Elsey and some of the contemporary New Fauve painters to our collection. Come in to check out our wide selection of paintings."

Barbara Vahlkamp

Thomas Moser San Francisco
Stay tuned! I have another solo exhibition with this wonderful showroom coming in 2016!


Kathleen Elsey at the easel, painting lavender




Kathleen Elsey painting, "Windy Ridge" Sonoma


Kathleen Elsey "Red Rose with Everything" SOLD



Kathleen Elsey Santa Barbara beach painting "Hendry's Beach, with Yellow Umbrella" Sold


"Mediterranean Sunset with Palms"




Back to top
© 2015 All photos and content of this website are protected by U.S. & International copyright laws. They MAY NOT BE USED for reproduction in any manner without written authorization from Kathleen Elsey. They may NOT be used for Pinterest, blogs or any other social media. Unauthorized usage is stealing, not sharing. Unauthorized reproduction or usage is prohibited by the Copyright law and will be prosecuted. If an infringement is discovered, you will be notified and invoiced the industry-standard fee for unauthorized usage and prosecuted for Copyright Infringement in U S Federal Court which will subject you to a fine of US $100,000.00 statutory damages, court costs and attorneys' fees.