22" x 30"
SOLD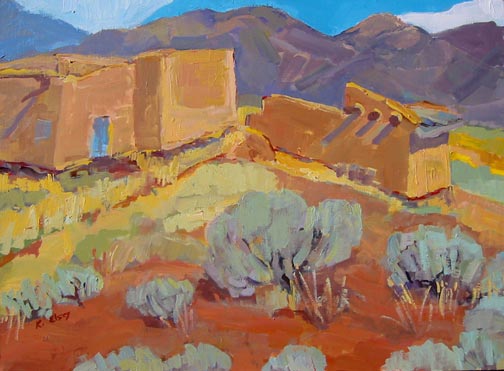 For over 35 years I've been visiting New Mexico, in particular Santa Fe and Taos. I feel particularly drawn to the land here and I think I paint differently when I'm here. The colors are brighter, the air is purer, and so is my soul. The coyotes, the full moon, the desert inspire me. The Taos Morada was fascinating. The remoteness, the beautiful setting with Taos Mountain in the background and the sound of that quiet hot summer day denying Autumn's entrance was mesmerizing.

Like most moradas, this one was found in an isolated area on the edge of the village. It was specifically built as a meeting house for Penitente worship. They are constructed according to the needs and wealth of the members and are often difficult to distinguish from other village buildings. Many have the look of a village chapel. Others look like a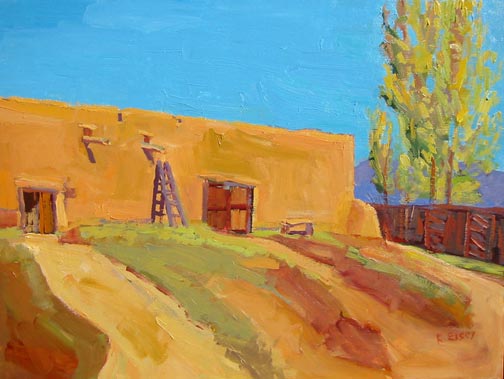 village home. The plan could be a rectangle, or a more elaborate. The roof of this morada was flat with a wooden bell tower. The Taos Morada has small and unobtrusive doors and windows. The doors were low (causing one to bend in a prayerful position when entering). There is a rather large 8 foot cross on a small hill in front. I wasn't going to paint the obtrusive cross or the wooden tower, thinking it not befitting to the scene. But after reading more of the moradas of New Mexico, the cross may become part of my painting. You might also like my painting of La Hacienda de los Martinez.