I am busy painting for a couple of exhibitions so there are no workshops planned for 2017. If I have your email address, I will let you know when I will be offering classes or workshops in the future.
PAST WORKSHOPS:
Plein Air Paint -You missed this one!
Wednesday- Friday, August 17, 18 & 19th, 2016 Sold Out
9:00 a.m. - 1:00 p.m. Tuition $325 Eight students only
Hotels Materials
Join California colorist, Kathleen Elsey, and paint the missions, mountains, meadows and beaches of this coastal town. You will learn to see with a greater awareness. There is nothing better than putting your brain away and letting your eyes tell you how to paint. Learn to paint with Kathleen's signature vivified palette to make bright and bold paintings. You will learn to search for shapes, colors and values while studying composition and simplification. Kathleen will demonstrate how she begins a painting and talk you through her process of covering the canvas with paint. Come prepared to paint the town while enjoying the camaraderie of other artists as we make paintings.
All mediums and levels of painters are welcome. There is a maximum of ten painters in this workshop. Download registration form when you are ready to join in the fun. Hotel ideas are here. You will need a car to travel from location location. A material list is here. More details about my supplies is further down this page.
Paint with a looser hand, a vivified palette and brusque brushwork. "I want to capture the emotion of my subject. I see. I feel. I discover rhythms, shapes, lines. I want the balance between my eye, my mind, my heart."
Plein Air Painting Santa Barbara, California
Monday- Wednesday, April 25, 26, & 27, 2016
in case of rain, we will paint on 28th
9:00 a.m. - 1:00 p.m. REGISTRATION CLOSED
This is a small mentoring workshop with lots of individual instruction. I will demo how I tackle a tough composition and make a beginning in a fearless fauve manner. You will learn how to make a lively beach painting full of energy and emotion. And you will learn to put those finishing touches on a mission or mountain meadow painting and stop before over working it. We will work on your individual challenges. Each day we will meet and paint for four hours and you are welcome to remain at each location and continue painting on your own. We will meet and greet the first morning at my home studio over coffee and pastries. This is your chance to see a whole pile of my paintings from beginnings to finished pieces. From there we will head out to our first location and paint through the morning finishing at 1:00. I will begin with a demonstration and then you will start your paintings. I will help each of you as you develop your painting. Each day we will meet at 9 in a new location and paint til 1. On the afternoon of our first day, we will have a no host happy hour and dinner at my favorite local Mexican restaurant.
Have fun and go home with an armful of paintings and a heart full of memories.
Tuition is $325 for three days. You provide transportation, your painting materials, accommodations and meals. You need to be able to carry your gear a short distance from parking to our paint locations. Print registration form when you are ready to join the fun and mail back to Kathleen. My new studio mailing address is on the form. Material list is here. And even more details about my recommended supplies is further down this page. Please email if you have additional questions.
Paint with a looser hand, a vivified palette and brusque brushwork. "I want to capture the emotion of my subject. I see. I feel. I discover rhythms, shapes, lines. I want the balance between my eye, my mind and my heart."
"Kathleen Elsey paintings are marked by rich colors and dramatic brush strokes that recall both Impressionist and Fauvist traditions."
Daedalus Howell, San Francisco Chronicle
Kathleen Elsey, Santa Barbara artist, demonstrates how she makes a plein air painting in a field of colorful flowers near Santa Barbara, California. Kathleen is a California fauvist and offers painting workshops, plein air and studio painting, for acrylic, oil and pastel painters across the United States. The above scene is from a flower farm in the mountains above Santa Barbara, California.
Creativity not only involves coming up with something new, but also with shutting down the brain's habitual response and letting go of conventional solutions. In this workshop you will learn to:

think like an artist
see shapes, shadows and colors
make interesting brushwork
be bright and bold
develop free expression
make interesting compositions
paint from your heart
paint like a fauve (wild beast)!
know when to stop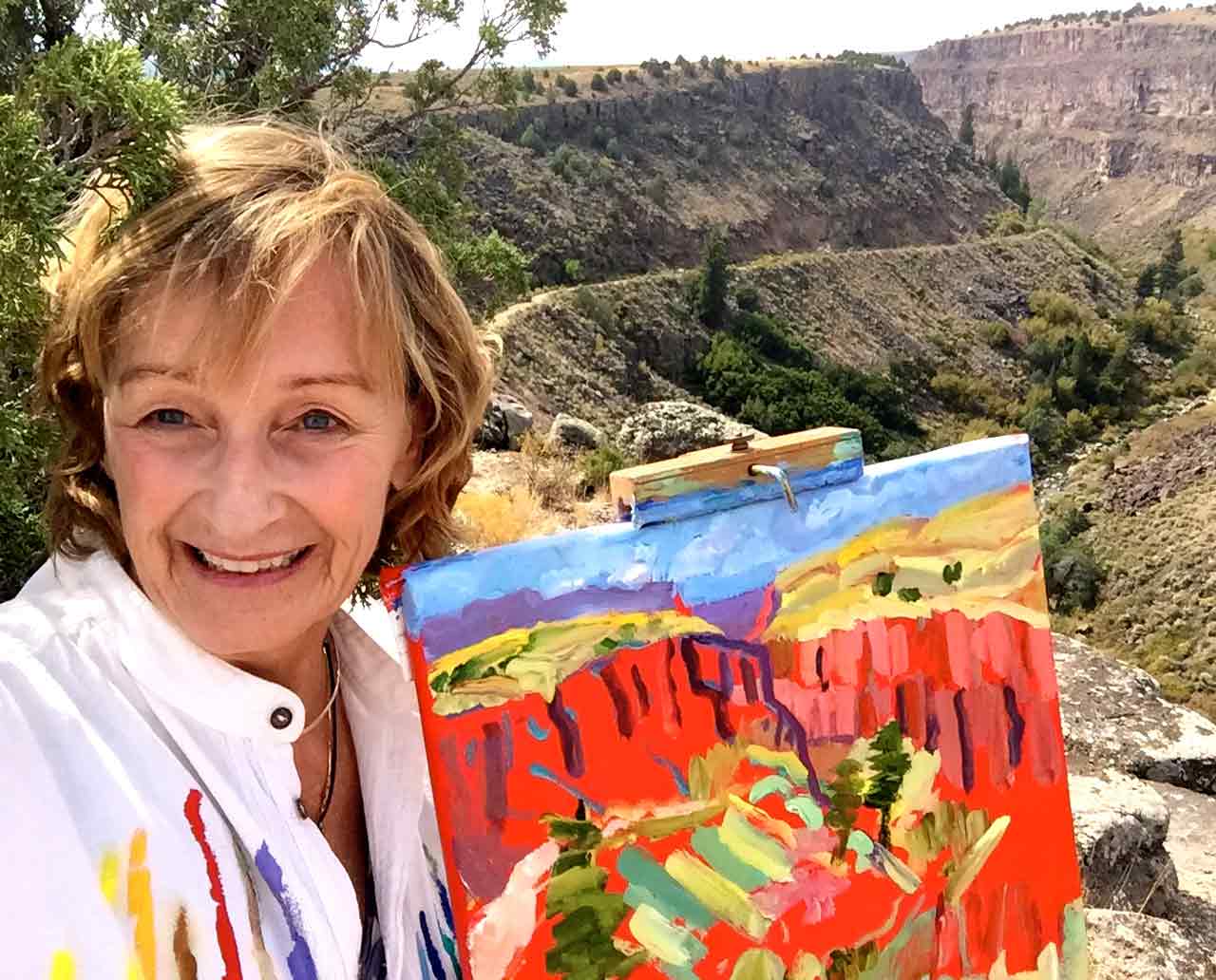 "Kathleen, I love your work, your colours and your approach to the landscape. I seldom use that adjective, when commenting on paintings but I just love what you painted in New Mexico." Brian, Fauvist painter from Canada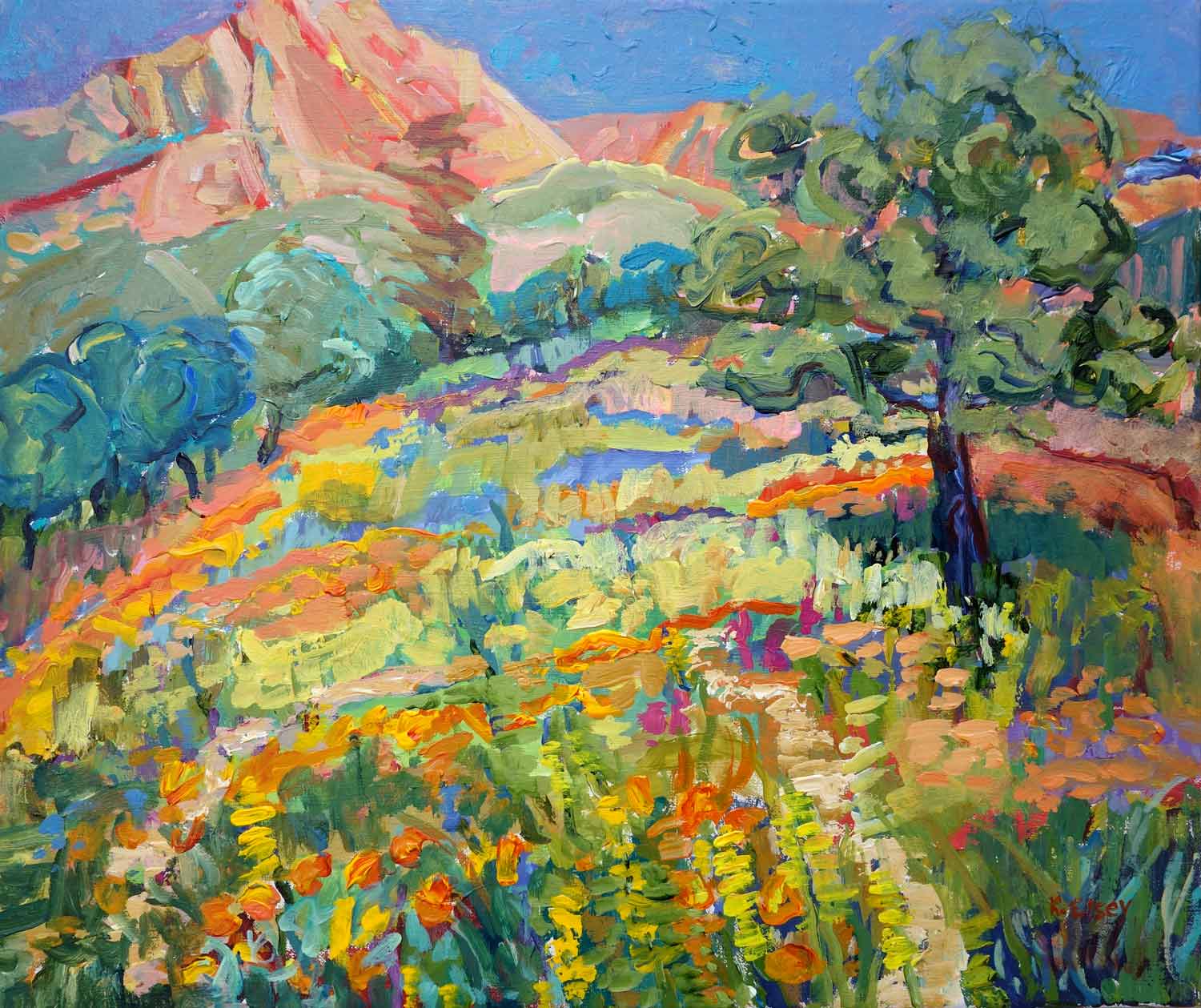 Paint bold and create paintings full of your own spirit. And if you don't have your own spirit, we'll find it! You'll learn more than you want to know about composition, light, color and value.

2015 Paint the Color of Taos, New Mexico!
Plein Air Painting Taos You missed this one!
Sept. 29, 30 & October 1, 2015
9:00 a.m. - 1:00 p.m. or 1:00 - 5:00 (depends on weather)
Tuition $300
Small workshop - max eight students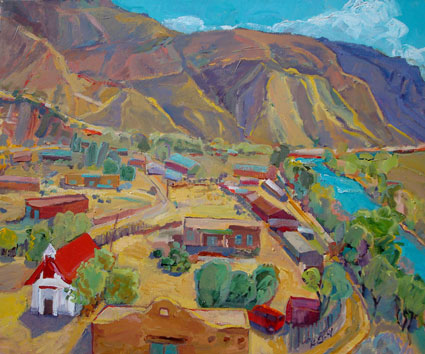 "You and colorist Charles Sovek are an inspiration to anyonewho enjoys art and color. Thank you for your website and your inspiring paintings." Ted from Georgia