August 10, 2007
(A portion of the article is below.)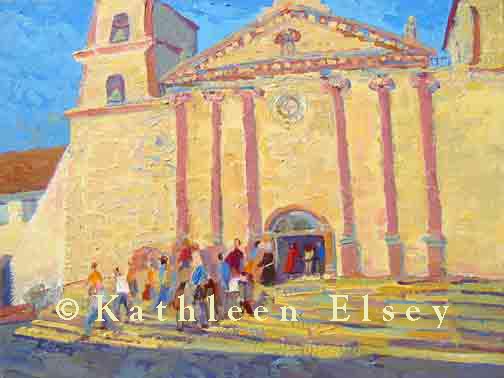 A wind of self-fulfilling logic is blowing through the Harris and Fredda Meisel Gallery, and lining the walls of the Rehabilitation Institute. The core goal of the group show "Figuratively Speaking," after all, is to celebrate the human form. Ditto, the core goal of the Institute which deals directly with bodies-figures – and their capacity to adapt and be repaired.

In the case of the artists showing here – some familiar to the local art scene and some new to it – the genre of figurative art is anything but a fixed field of expression. Each artist finds a particular way of dealing with the figure, carving out a niche within the medium.

Kathleen Elsey paints with a looser hand than the other artists, building compositions with dabs of paint and structures built from modules. Fauvist echoes sneak into her scene paintings, brightly hued but slightly tilted views, as in "Beach Day, Misty" and "Mission Morning Mass," a strange but interesting take on the oft-depicted Santa Barbara Mission.
By Josef Woodard Santa Barbara News Press Correspondent
---
© 2009 Kathleen Elsey. All rights reserved. All paintings are property of Kathleen Elsey
and may not be reproduced in any form without the written permission of Kathleen Elsey.