May 5, 2007

Santa Barbara, California – Kathleen Elsey's painting "Kathy's Garden," was accepted into the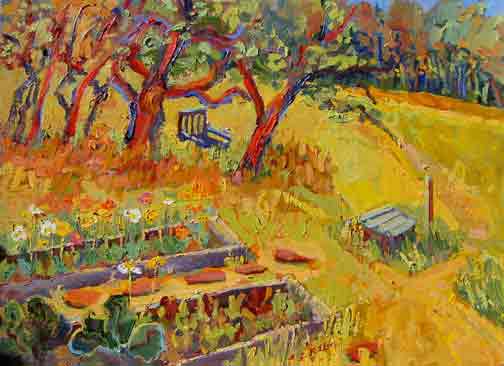 juried exhibition of the International Society of Acrylic Painters and won the Golden Paint Award. The painting exhibition is in San Luis Obispo, California May 5th through June 16. In addition, her painting, "The Nursery" (Best oil or acrylic winner at the Carmel Plein Air Festival) was selected for the American Impressionist Society's Exhibition May 3rd through May 25th at Hilligoss Gallery in Chicago. Ms. Elsey is a founding member of En Couleur, a group of seven California Colorists, and a signature member of the American Impressionist Society, the International Society of Acrylic Painters and the National Association of Women Artists. She is well known across the United States for her fauvist landscapes, interior scapes and still life works on canvas. Kathleen Elsey painting workshops are available in Taos, New Mexico, Sonoma and Santa Barbara, California.
---
© 2014 Kathleen Elsey. All rights reserved. All paintings are property of Kathleen Elsey
and may not be reproduced in any form without the written permission of Kathleen Elsey.