plein air painting by Kathleen Elsey, signed lower right 24" x 30"
Sold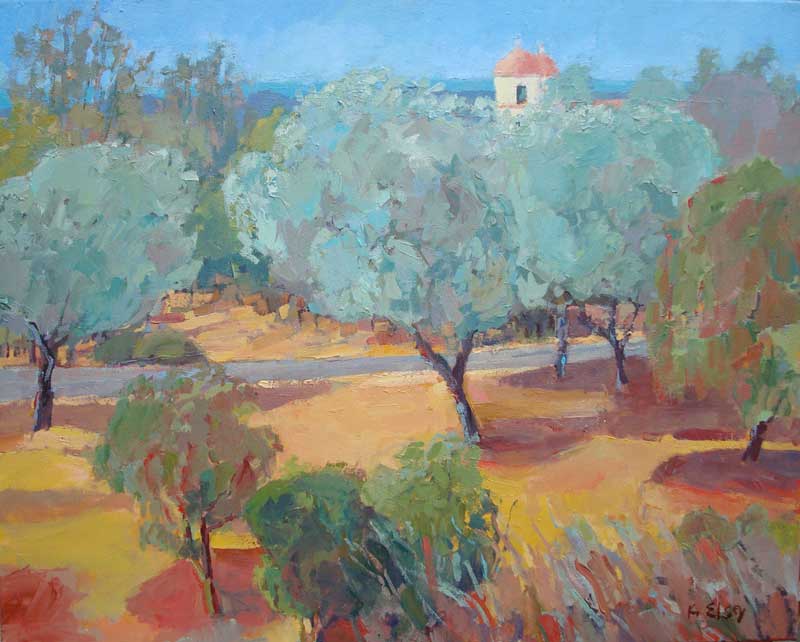 Emerging beyond the olive trees is the Santa Barbara Old Mission, "Queen of the Missions" known for its graceful beauty. Founded on December 4th, 1786, it was the tenth of 21 Franciscan missions in California. This painting was made at the Historical Mission Park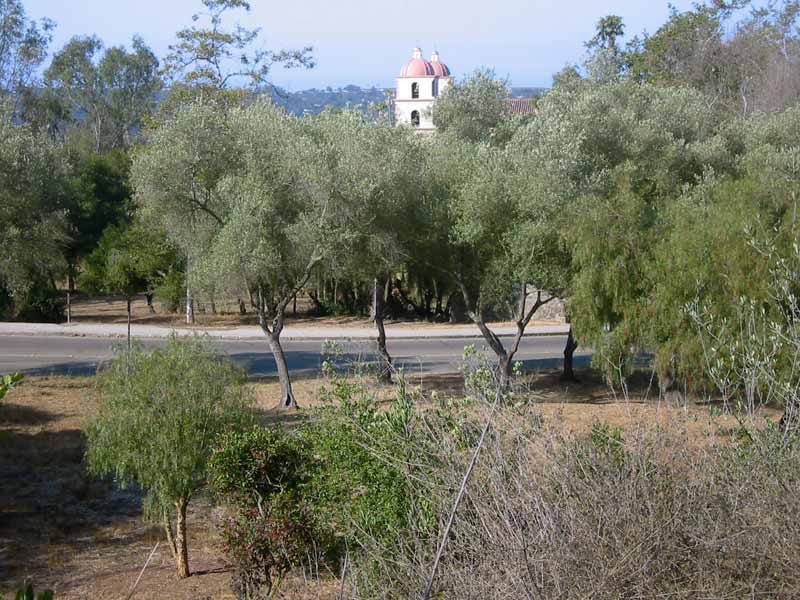 in Santa Barbara, standing by the Upper Reservoir, one of the structures built by the Chumash Indians in 1807. It was my intent to capture the flowing olive branches as they flickered in the breeze on that blue sky summer morning.
I painted from the trail behind the Mission leading up to the old Chumash Indians' reservoir. It was in the middle of a hot day and in the middle of summer.
The field of weeds before me was parched and golden from the heat and drought that was upon us that summer. The pepper trees in the foreground had a reddish tint to them where the peppercorns hung from their branches. At the time of the painting I did not know they were pepper trees. I only knew there was something red there, so painted the corns hanging. Later I learned that the pepper trees are indigenous to this area.
Since it was a very hot day, I had to pack it up before finished. Came back the next day with my "two wheel drive painting cart" for another session of painting in the heat. Lulu came too, and quietly laid in the shade while I painted Why did I come at high noon you may ask? I don't know. Just did. Because it was high noon the first day, I had to have the same kind of shadows the next day for consistency. So here I am at high noon again. Even if I stood on my tip toes, I could not see the ocean. But I knew it was out there and imagined that back in the day, the trees and Mesa was not so high and there could have been a view of the cerulean colored Pacific Ocean. Yes, I have a vivid imagination and that works to my advantage when I paint. Kathleen Elsey, California Painter