22" x 30" 2006 signed by Kathleen Elsey, artist, bottom middle by artis
Previously exhibited in:
2007 International Society of Acrylic Painters Exhibition, Golden Award
2012 Kathleen Elsey Solo Exhibition at Thos. Moser in San Francisco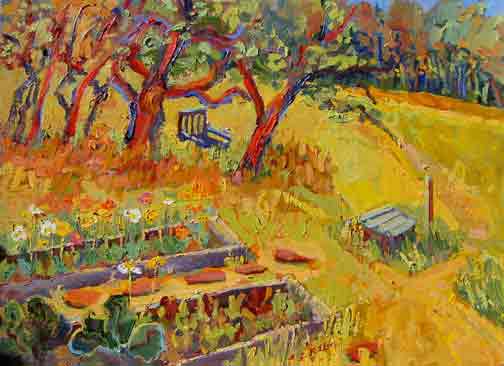 I'll be returning to Sonoma in a few days for a painting retreat, and suddenly am feeling homesick for my old home there on the side on Sonoma Mountain. I had a lovely vegetable and flower garden on the side of the mountain It was a wonderful, peaceful part of the ranch. There was an incredible old oak tree there, all twisted and gnarly which I painted many times. Here is a picture of Mom sitting in the chair by the old oak tree.
After working in the garden, I enjoyed relaxing in the wooden chair in the shade of the oak tree and looking over the countryside. I grew poppies and chard and lettuce at the time this was painted. The air was hot, dry and fresh and the sky so blue. All I could hear was the sound of the insects and animals that owned the mountain that I lived on. This painting is made mostly from my memories of how my garden looked in late summer when I lived there over 3 years ago. The grass was parched and straw colored from the long dry summer. I wonder if it still looks like this?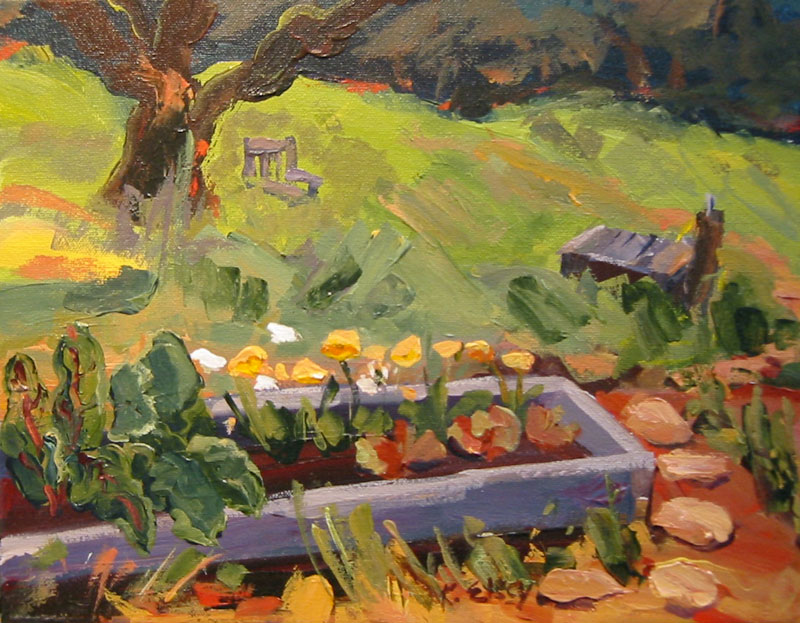 The palette of colors I used to make this painting are portrait pink, cadmium red medium, alizarin crimson, cadmium orange, violet oxide, cobalt teal, ultramarine blue, cobalt, green gold, Jenkins green, yellow ochre, cad yellow dark, cadmium yellow light, Indian yellow, and titanium white. The ultramarine and violet oxide make a beautiful shad of earth color in the garden beds. I painted in acrylic first, then painted with oils and proceeded to get thicker and brighter. This is one of my top ten all time favorite paintings.
Here is another painting of that same garden, painted in 2003, before I moved away from Sonoma Mountain and moved to Santa Barbara, California.